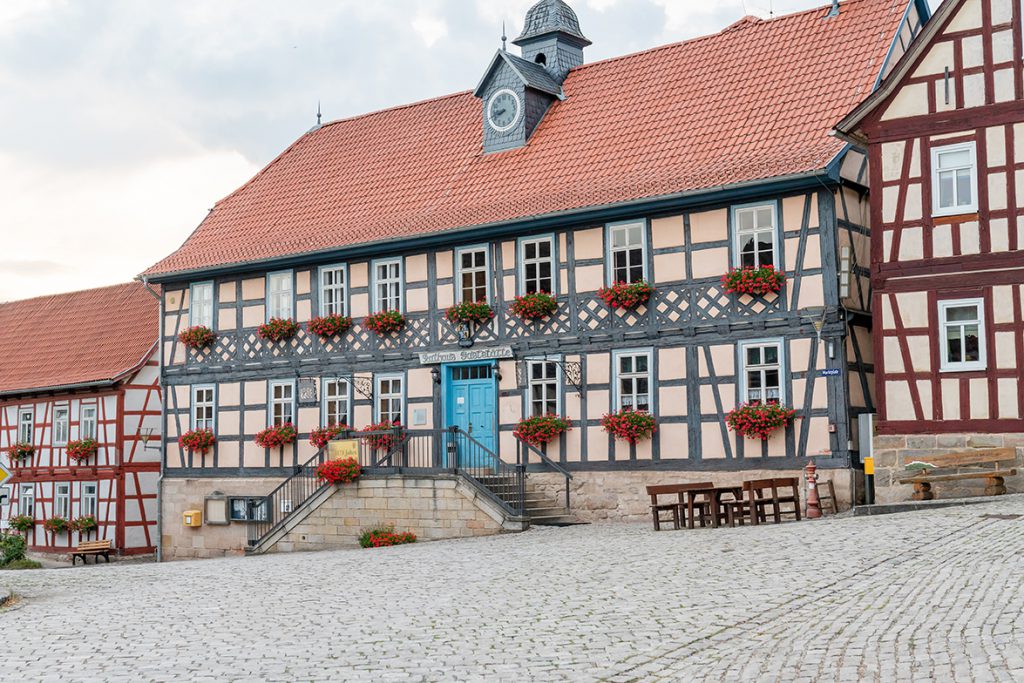 Das Rathaus ist das größte und repräsentativste Fachwerkgebäude in Ummerstadt. Bis 1929 war das schmucke Riegelwerk unter Putz verborgen, erst seitdem  präsentiert sich  das fast  450 Jahre alte Gebäude wieder mit Fachwerk-Fassade – und prägt damit die Ansicht  des Marktplatzes, an dessen Stirnseite  es steht.
In die Westecke  der Grundmauern  des Rathauses  ist die Jahreszahl 1558 gemeißelt: Das Jahr des Rathausbaues – so nimmt man an.
Im Dreißigjährigen Krieg, genau am 14. Oktober 1632, brannte das  Rathaus, wie die meisten Gebäude  der Stadt fast vollständig  nieder. Kaiserliche und kurbayerische Truppen waren die Brandstifter. Nach dem Großfeuer konnte der Schankbetrieb in den unteren Räumen nur notdürftig aufrecht erhalten werden. Unversehrt blieb die Rathausglocke, die – nach einem kurzem Zwischenspiel in der Stadtkirche- heute wieder im Türmchen des Rathauses läutet. Sie ist die älteste Glocke Ummerstadts.
Ende 1682 beschloss der Gemeinderat, auf dem Fundament des  abgebrannten Rathauses ein neues zu bauen. Rechts und links des Treppenaufgangs zeugen noch heute zwei Innungsschilder aus dem Jahre 1727 vom hohen Stand  des handwerklichen Könnens. 1793 war eine größere Reparatur  erforderlich: Bei dieser Gelegenheit wurden die Innungsschilder aus den Jahren 1715 und 1727 erneuert.
Die West- und Wetterseite des Rathauses beschlug 1859 der Hildburghäuser Handwerksmeister  Friedrich mit Schiefern. 1929 ging man daran, am Rathaus – wie an den meisten Ummerstadter Gebäuden – den Putz abzunehmen  und das alte Riegelwerk hervorzuholen; diese Epoche, in der Fachwerk wieder "in" war, wirkte sich sehr positiv auf  das Ansehen  des Städtchens aus; es wird – in Anbetracht der vielen kunstvollen Fachwerk-Fassaden – auch "Thüringisches Rothenburg" genannt.
Heute sind -wie in alten Zeiten – im Rathaus die Stadtverwaltung  und  eine Gaststätte zu finden.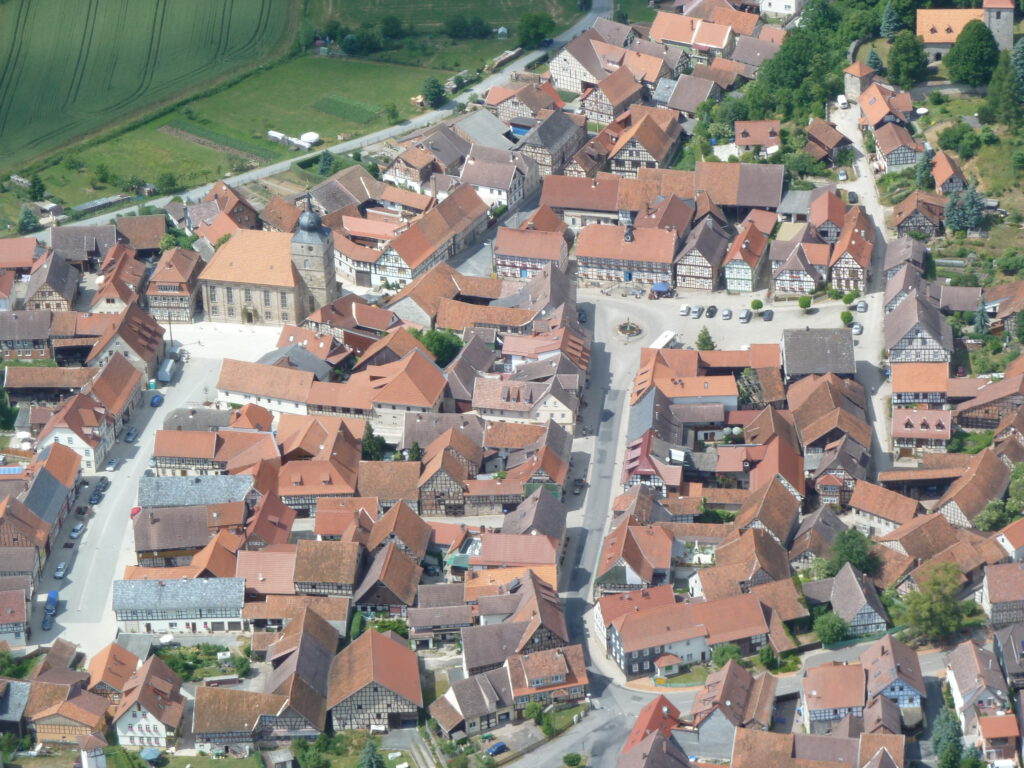 The town hall is the largest and most representative building of timber construction.  In the basement carved into a sand stone wall, there is the date 1558 which is assumed to be the original building date of the town hall.  In the 30 Year War – the exact year  being 1632 – the building burned down as well as most of the other buildings in town.  The pub on the 1st floor supposedly was still open, but everything else was gone.  The town hall bell was brought to the lower town church for security reasons, but is now back in place and the oldest bell in town.  In 1682 the town council (men) decided to build new on top of the old foundation.  In the 18th century the building was completely stuccoed, there are still pictures around that show the timber construction covered.  In 1929 the stucco was removed as on most buildings in town.  It became fashionable again to show the construction. The west side which faces the weather was enclosed with slate.  The slate was removed in the year 2000, when the building was renovated again, but this is a real problem now…because rain is absorbed by the wooden beams and has makes the inner walls wet.  The old craftsmen knew what they were doing.  The pub downstairs and the city administration upstairs are still today in the same location.